Srdjan Djokovic has put Serbia and Russia's relationship in the spotlight. How has Belgrade responded to the invasion of Ukraine?
Serbian tennis player Novak Djokovic's father has made headlines for posing with a group of people holding the Russian flag at the Australian Open.
Footage shared on YouTube showed Srdjan Djokovic standing outside Melbourne Park with a group displaying a Russian flag superimposed with Vladimir Putin's face.
Mr Djokovic said in a statement he had "no intention of causing such headlines or disruption".
But it has put Serbia's relationship with Russia back in the spotlight.
Let's take a look at how Serbia has responded to Russia's invasion of Ukraine.
Prime minister 'best friends' with Putin
Under the leadership of Aleksandar Vučić and Vladimir Putin, the bond between Serbia and Russia has tightened.
Serbia is dependent on Russian gas and oil, and Mr Vučić has hailed Mr Putin as a "best friend" and a "kingmaker".
Aleksandar Vučić has said the war in Ukraine has challenged his relationship with Vladimir Putin.(Reuters: Maxim Shipenkov)
During Victory Day celebrations in May, Serbians marched while carrying cardboard figures of Mr Putin and "Z" signs, which symbolize support for Russia's invasion.
At the time, Serbian minister Nenad Popovic said his country and Russia "always have been on the right side of history".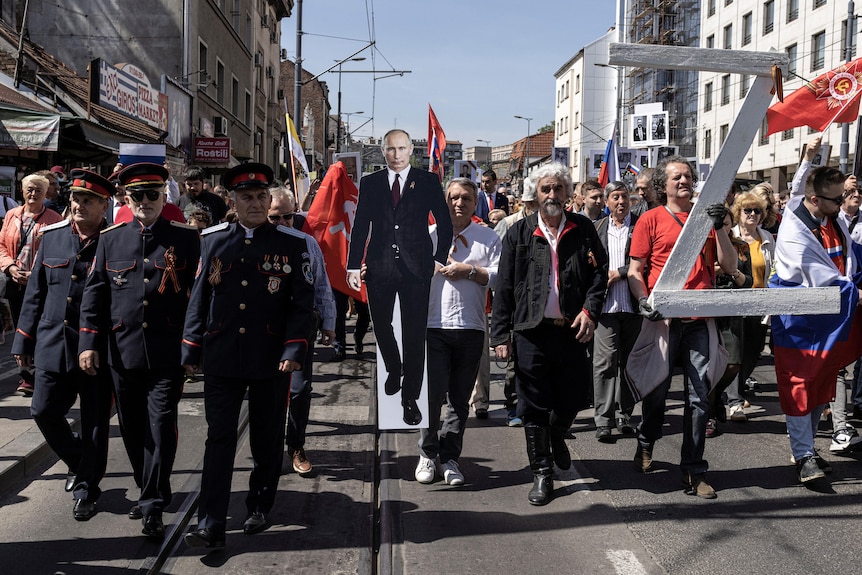 The president of the Russian minority party Zoran Maric holds a Vladimir Putin poster during a Victory Day march in Belgrade. (Reuters: Marko Djurica)
While there is support in Serbia for Russia and its invasion, citizens there have also staged protests against the war.
Demonstrators took to the streets of Belgrade in December and again this month holding signs saying "make love, not war", "no Putin, no war" and "freedom for political prisoners in Russia".
Serbia's bid to join European Union
Serbia is a candidate to join the European Union, but one condition is that it must place sanctions on Russia.
Serbia has ignored calls to align its foreign policies with the other 27 nations, prompting suggestions its bid should be suspended until it complies.
It has condemned Russia's invasion of Ukraine at the United Nations and several other international forums, but has refused to impose sanctions.
Serbia and Belarus are the only European countries that have refused to introduce sanctions against Russia.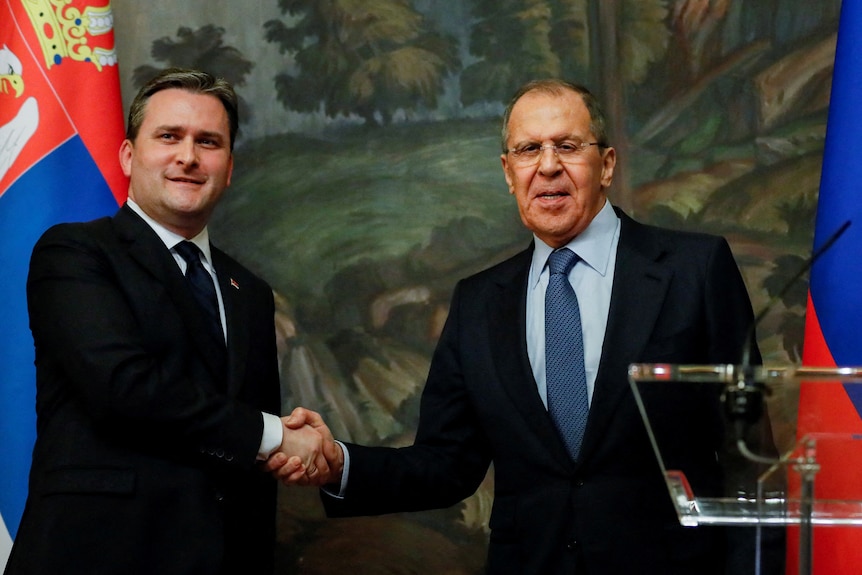 Russian Foreign Minister Sergei Lavrov (right) and his Serbian counterpart Nikola Selakovic signed a joint document last year. (Reuters: Yuri Kochetkov)
In September, Serbia and Russia signed a document dubbed a "plan on consultations".
Serbian Foreign Minister Nikola Selakovic said the plan envisaged consultations on bilateral and multilateral activities but did not include security policies.
The move was denounced by European Union.
Mr Vučić said Serbia would not recognize the results of the referendums held in regions of Ukraine partly occupied by Russian forces, saying it was not in its national interest.
Russia backs Serbia's claim over Kosovo, which declared independence in 2008.
The dispute between Serbia and Kosovo has remained a source of instability in the Balkans long after the 1998-99 war, which ended with a NATO intervention that forced Serbia to pull out of the territory.
Serbia and Kosovo have been told they must normalize relations if they each want to advance toward European Union membership.
Wagner Group criticized for targeting Serbs
Serbia has criticized Russian websites and social media groups for publishing advertisements in the Serbian language in which the Wagner group calls on volunteers to join its ranks.
Mr Vučić has denied allegations that the Wagner group has a presence in Serbia.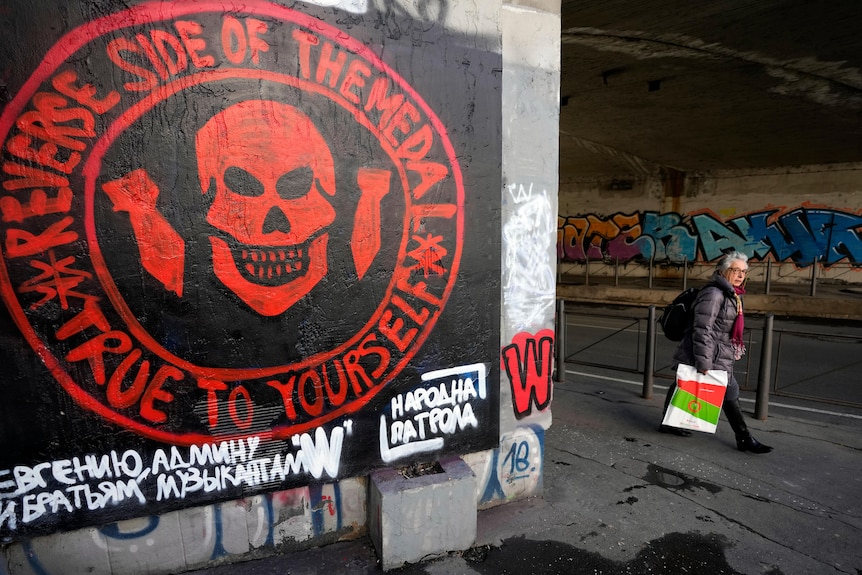 Wagner Group's logo was repainted on a wall in Belgrade after someone wrote the words "no war" over it. (AP Photo: Darko Vojinovic)
Serbians are banned from participating in conflicts abroad and several people have been sentenced for the crime.
However, Serbians volunteered to fight along pro-Russian forces in Ukraine in 2014 and 2015.
It is not clear how many volunteered at one time, but dozens signed up to fight, according to observers.
ABC/wires