In comments shared with Newsweek, the ambassadors of Serbia and Kosovo have warned that a resurgence in their decades-long feud fueled by ethnic and territorial divides risks the eruption of a new crisis in a continent already beset by Russia's war in Ukraine.
The frictions have their roots in the tumultuous breakup of Yugoslavia, a socialist multiethnic federation in Southeast Europe that collapsed in the 1990s into the modern successor states of Bosnia and Herzegovina, Croatia, Montenegro, North Macedonia, Serbia and Slovenia, with the status of Kosovo remaining a matter of international dispute since it declared independence in 2008. A razor-thin majority of United Nations member states, including the United States and most of NATO and the European Union, view Kosovo as an independent republic, while nearly half the world does not consider Kosovo to be a separate political entity from Serbia.
A fragile peace has been held up by a number of international accords, but none have managed to resolve these hostilities still plaguing the heart of the Balkans.
Kosovo has a significant ethnic Albanian majority, but also includes a number of minority communities, including Bosniaks and Serbs, which Serbian officials have alleged are targeted by Kosovar authorities pursuing discriminatory practices. In one of the latest incidents, the dismissal last month of a Kosovar Serb police officer over his refusal to switch out his old Serbian license plate for a new Kosovar one sparked mass resignations among Kosovar Serb officers and lawmakers.
Turmoil worsened this month with the arrest of another Kosovar Serb police officer accused by Kosovo authorities of terrorism, and reports have emerged of gunfights between assailants and police, as well as attacks on European Union personnel. Amid this unrest, Serbia has openly considered deploying troops to Kosovo.
"Belgrade has been and always will be the constructive participant in the dialogue, advocating for peace, stability and compromise," Serbian Ambassador to the US Marko Djuric told Newsweek. "Pristina, for its part, continuously carries out provocative and unilateral acts in violation of the United Nations Security Council Resolution 1244 and the EU-facilitated Brussels Agreement, as well as measures that represent an existential security threat to the Serb population and their rights, thus endangering peace and further increasing inter-ethnic mistrust."
"Therefore, we seek the release of all arrested Serbs and strive to find ways to de-escalate the situation and calm the tensions in the north of Kosovo and Metohija," he added. "Lamentably, 2022 is a record year by the number of ethnically motivated incidents, unlawful and ungrounded detentions, attacks on Serbs, their property and Serbian religious, historical and cultural heritage."
And yet, he said that "Serbia remains committed to the process of dialogue conducted with EU facilitation, without prejudice to the future status of the southern Serbian province, and with the aim of resolving concrete issues important for life of all people in Kosovo and Metohija ."
NATO-led Latvian soldiers head to inspect trucks at a roadblock on one of the main roads to the border crossing point with Serbia on December 11, 2022, near Zubin Potok, Kosovo, which is claimed by Serbia to be part of its sovereign territory.
Ferdi Limani/Getty Images
Speaking from Kosovo's embassy less than two miles from its Serbian counterpart in Washington, DC, however, Ambassador Ilir Dugolli argued that "what we are witnessing is the latest in the long list of attempts by Serbia to destabilize Kosova."
"The autocratic regime in Belgrade is engaged in continuous efforts to cause unrest," Dugolli told Newsweek, "and they are doing this not only in Kosova but in other countries like Montenegro and Bosnia and Herzegovina."
Dugolli asserted that "the main drive for these efforts" could be found in the lingering influence of former Serbian and Yugoslav leader Slobodan Milosevic, who resisted the breakup of Yugoslavia and backed Serb nationalist revolts across the Balkans in the midst of bloody wars that drew in direct intervention by NATO. Milosevic was ultimately overthrown in 2000 and transferred to The Hague to face war crime charges but died in his cell in 2006.
The Kosovo ambassador also defended recent law enforcement actions, saying "the arrest of a former police officer who is suspected to have carried out a terrorist attack against premises of Municipal Election Commission, is only a pretext for these attacks" being threatened by Serbia.
"Belgrade is, clearly, interested to sabotage the agreement on normalization of relations at the center of which should be mutual recognitions between Kosovo and Serbia, something that a number of leaders and institutions—from President [Joe] Biden to the European Parliament—have made very clear," Dugolli said. "Furthermore, it is important to note that this is a tactic by the Serbian side to put additional barriers to Kosova's integration in the EU."
The EU has considered Kosovo a potential candidate for accession and Pristina formally applied for membership on Thursday against the backdrop of worsening tensions with Belgrade.
"The false sense of urgency created through misinformation and manipulation of the media shapes a perception of ethnic tensions, as if Kosova is putting its ethnic Serb citizens at risk," Dugolli said. "Yet, this narrative has no grounds in reality, and is only a tool to gain sympathy from the international community."
"In reality, Belgrade has made sure to threaten and not allow local Serbian leadership in Kosova that strays from the politics of [President Aleksandar] Vucic," he added. "On the other hand, there are no documented instances of a systematic violation of the rights of Kosova Serbs by the Kosova government."
But Djuric disputed this. He called on international stakeholders to take heed of the alleged plight of Kosovar Serbs along with other minorities who he argued were also under threat.
"Serbia continues to call on the international community and all actors within the international presence in Kosovo and Metohija to ensure peace, respect for UN Security Council Resolution 1244, legal norms and agreements reached, ie to prevent further endangerment of Serbs and other non-Albanians ," Djuric said, "and to protect their human rights while providing safety and sustainable return of all refugees and displaced persons and thus enabling them a normal and dignified life of the 21st century."
And, on the matter of international recognition, he pointed out that "a large number of UN member states, including five member states of the European Union, do not recognize the unilaterally declared independence, and see it as an act threatening to create a precedent , destabilize other regions in the world and thus threaten the existing world order."
Within the EU, the countries that do not recognize Kosovo's independence are Cyprus, Greece, Romania, Slovakia and Spain, largely due to these countries' own existing territorial disputes and concerns over sizable, residual minority populations at home. A successful bid to join the EU would require each of these countries to shift their position and join an unanimous vote in favor of Kosovo's aspirations.
Djuric further asserted that "Kosovo and Metohija is an autonomous province within the Republic of Serbia, under the administration of the Mission of the United Nations (UNMIK) in line with the effective legally and binding UNSC Resolution 1244" and that Kosovo's declaration of independence was a "unilateral act in flagrant violation of international law, the Charter of the United Nations, United Nations Security Council Resolution 1244 (1999) and the Helsinki Final Act."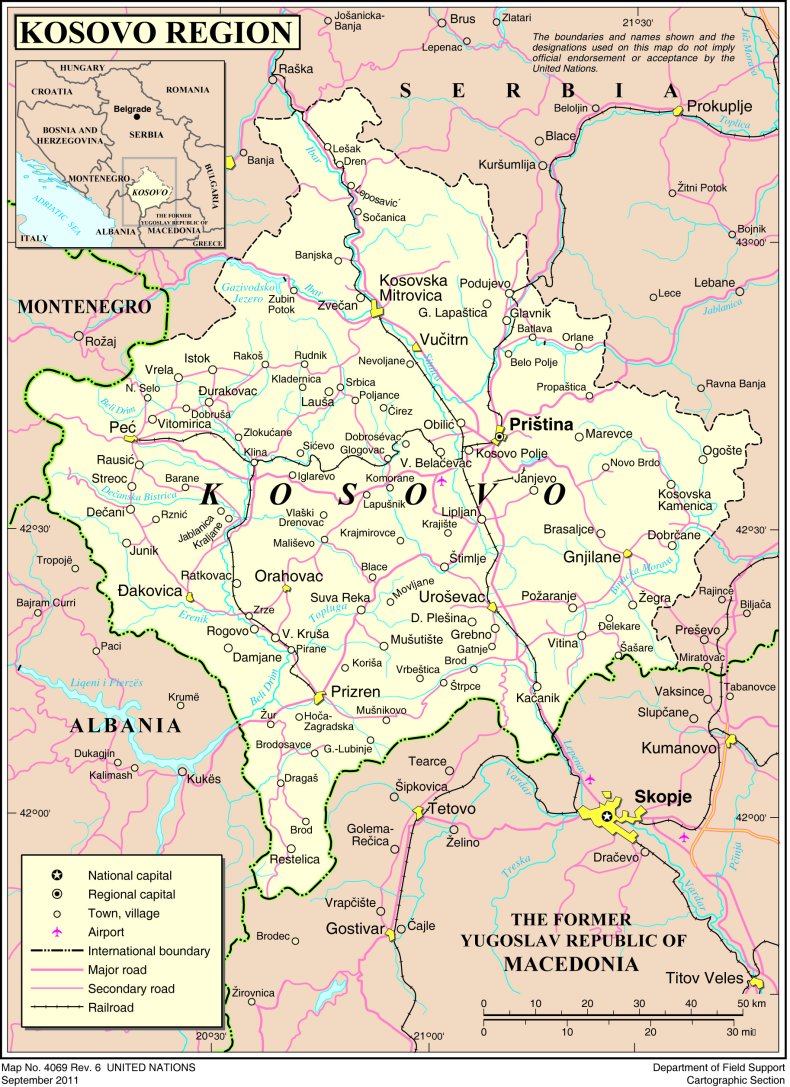 A map by the United Nations, which does not recognize Kosovo's independence from Serbia, shows the "Kosovo region" along with its neighbors in the Balkans.
Department of Field Support/Cartographic Section/United Nations
The ongoing Kosovo-Serbia dispute plays out against the backdrop of broader geopolitical rivalries that have long had a substantial impact on the Balkans. While Kosovo has made strides to build relations with the West and its allies, Serbia has maintained close ties with Russia, along with other countries often critical of Western policies.
"It is worth keeping in mind that through escalations and tensions, Serbia constantly seeks to distract from its activities in other areas," Dugolli said, "be it refusal to align foreign policy with the EU and US regarding sanctions against Russia, or expanding cooperation with Iran, Venezuela and other likeminded regimes."
Moscow has repeatedly voiced support for Belgrade's position, with Russian Ambassador Alexander Botsan-Kharchenk telling the outlet Soloviev Live on Tuesday that "we stand together with our friends under the 'We don't abandon our own' slogan for Serbia."
Such rhetoric has raised concerns in Kosovo, as Serbia suggested it could deploy military units to what it considers to be its own province, something Dugolli said would be resisted.
"In the territory of the Republic of Kosova, there will never be policemen and soldiers from Serbia again, and Serbia's hegemonic dream will never come true," Dugolli said. "That is not to say that Serbia's statements and actions should not alarm everyone who cares about peace and stability in the Balkans. Serbia's threats through armed forces should outrage everyone."
"After all, these threats are taking place against a backdrop of four wars waged by Belgrade in the region," he added. "It is Serbia, not Kosova, through both official channels and criminal elements that is once again viciously assaulting Kosova Serb politicians who do not subscribe to Belgrade's warmongering."
And he too called for international action, asserting that "Serbia is basically threatening Kosova with aggression, and we consider that any non-condemnation by the EU and the US of this rhetoric and orchestrated violence will encourage Serbia to further push for the destabilization of Kosova ."
He also linked the deterioration of the situation to another post-Cold War conflict in Europe, one that has since erupted into an explosive war ravaging the former Soviet republic of Ukraine.
Amid concerns over Ukraine's bids to join NATO—as well as the EU—and in support of two self-declared pro-Russia separatist republics on Ukrainian territory, Moscow launched a war against Ukraine in February. The conflict has become mired in stalemate in the months since and Dugolli asserted that "nervousness in Belgrade is in part affected by their disappointment with Russia's failure to occupy Ukraine."
But he said that, "as for any attempt to compare the incomparable, legality of Kosova's independence was sealed by the International Court of Justice in an opinion delivered upon Serbia's initiative." He described Belgrade and Moscow's opposition to this opinion as "brazen," but "not surprising."
The 2010 ICJ opinion was the first of its kind and found Kosovo's declaration of independence to not be in violation of international law. It did not, however, explicitly endorse the validity of Kosovo's claim.
Djuric, for his part, argued that the only connection Serbia drew between the situations in Ukraine and Kosovo was Belgrade's consistent support for territorial integrity, something he asserted Pristina continues to violate in its quest for statehood.
"Just as it is committed to preservation of sovereignty and integrity of its own territory," Djuric said. "Serbia is likewise advocating respect for territorial integrity of other sovereign countries, internationally recognized within the United Nations, and the principle that borders can be changed only in accordance with the rules of international law."