The best graduates thanked Serbia for their help: Our work has been recognized, we are making our dreams come true!
The best graduates, 200 future doctors and 500 nurses and technicians, who received employment contracts today, are satisfied that the state recognized their work and "sleepless nights over a book", and add that today they get the job they dreamed of for six years.
Photo: pink
Today, the best 200 graduates from medical faculties in Serbia got the opportunity to start their medical careers in clinical and clinical-hospital centers in the country.
On behalf of the best, Dr. Milica Markagić addressed the ceremony and said that the program gives faith to young people and restores hope that true values ​​are still being appreciated.
"Someone was able to recognize our work and sleepless nights over the book. Today we get the job we dreamed of six years ago when we enrolled in medicine. Today we were given the opportunity to realize our dreams in the desired city by pursuing the desired specialization," said Dr. Markagic .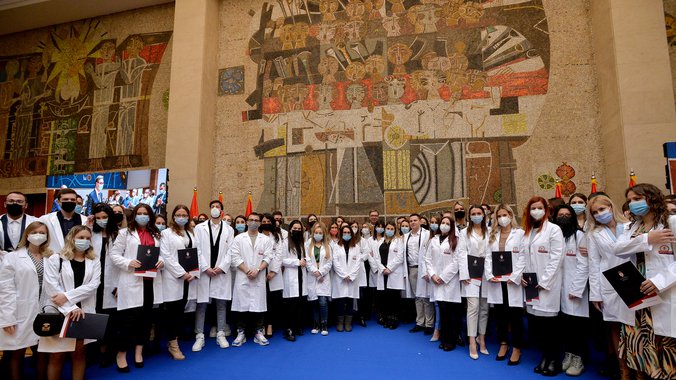 She will start her professional career at the KBC "Kosovska Mitrovica", at the Department of Anesthesiology.
In addition to the best graduates from medical faculties, 500 best graduates of medical high schools also received contracts, and among them is Filip Ninković, who will work as a medical technician at the Institute for Mother and Child.
"I thank the Ministry of Health and the state for enabling us to start our careers in our country. This program is a great incentive for all colleagues who continue to study and work hard," said Filip.
Source: pink.rs