Tourists evacuated, five-year-old girl ended up in hospital! BURNT FIRE IN ITALY AS WELL!
Italy, like Turkey and Greece, is battling catastrophic fires these days.
Photo:pink
More than 800 fires were recorded this weekend, mostly in the south of the country, the Italian National Fire Service announced.
Five people were injured and tourists were evacuated after a pine forest burned near a beach in Peccara, Italy.
A five-year-old girl was transported to the hospital, but it is believed that her condition is not life-threatening, reports the Guardian.
About 800 people were evacuated from their homes, including the convent of the nuns, after a fire broke out in the 53-hectare Pineta Danunziana Nature Park near Pescara. Fires are still active on various fronts.
Firefighters put out fires in more than 800 places
– We had to evacuate several houses and resorts because of the smoke – said Carlo Masci, the mayor of Pescara. – The biggest problem is the hot wind. We do everything we can to limit the damage.
– In the last 24 hours, firefighters carried out more than 800 interventions: 250 in Sicily, 130 in Puglia and Calabria, 90 in Lazio and 70 in Campania – the Italian National Fire Service announced on Twitter.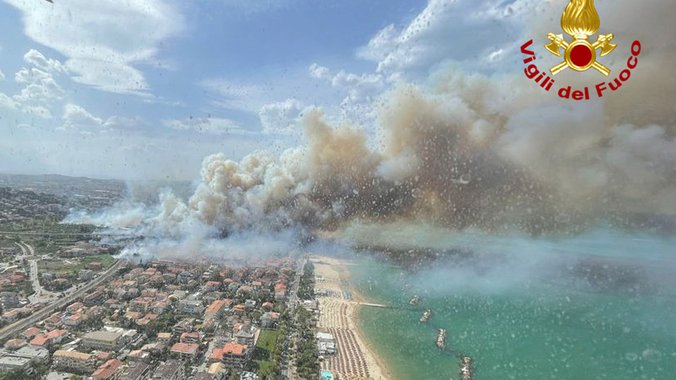 Recall, forest fires have also erupted in recent days throughout Southeast Europe and the Mediterranean: in Spain, Greece, Turkey and Tunisia. These countries are facing one of the most severe heat waves in the last few decades, with temperatures rising above 40 degrees Celsius, forcing hundreds of people to evacuate.
It also burns in Sicily and Sardinia
The fires also affected the coastal area of ​​the province of Catania in Sicily, destroying the local resort of La Capanina. Photos from the beach posted on social media show burnt umbrellas and deck chairs.
Fires are raging in Sardinia as well, and Italy was forced to ask for help from the European Union, which sent four Canadians there on Monday. More than 350 people were evacuated from the critical area.
With temperatures reaching 40 degrees Celsius, the hot wind accelerated the spread of fires throughout the island. Local media also report large fires in the province of Palermo.
According to EU data, the summer fire season this year is significantly worse, ie more destructive than the average at this time of year. The fires are raging due to one of the worst heat waves to hit Southeast Europe in decades.
Fires in Turkey, Greece, Spain …
And in Turkey, the fires are intensified by extremely high temperatures and strong winds, the strongest in the last 10 years. While an average of about 13,500 hectares are burned annually, 95,000 hectares have already been burned this year.
In the popular resort of Bodrum, tourists, hotel staff and locals had to be evacuated by sea over the weekend because a fire blocked the road. 540 people were evacuated by boats, reports CNN Türk.
One resident of Marmaris, when asked if she thinks that the great heat of this year is to blame for the fires, said – I don't know. Something is different. This is something I've never seen before. We used to have small fires, but I have never seen such destruction.
Turkish investigators are trying to determine if any of the fires were set. The number of people killed in the fires has risen to eight.
A large fire broke out on the other side of the Aegean Sea, near Patras in western Greece. As many as five villages had to be evacuated, and eight people were hospitalized due to burns and respiratory problems.
In Spain, firefighters and Canadians are battling a fire that broke out on Saturday afternoon near the San Juan Reservoir, about fifty kilometers from Madrid.
Source:
pink.rs