Rada Rajic Ristic
Korona slowed down some jobs: Zoran and Miroljub Golubović and Ivan Cvetanović
Our compatriots in the diaspora mostly "cure" their nostalgia for their homeland by preserving their language, dealing with folklore, and enjoying our traditional cuisine. Many have a piece of their homeland in their home, whether it is an icon, a precious memory or a souvenir. For those who live in Switzerland, and want more than that, brothers Zoran and Miroljub Golubović from Zurich, have enabled them to equip their home with furniture from Serbia. The advertising flag of the Simpo Company from Vranje has been flying in Dietikon near Zurich for more than three months. It took almost a year from the attempt to the realization in full light and splendor, but the Golubovićs opened a salon where customers, when they see the name of the store, enter because of the call of their homeland or out of curiosity – and leave enthusiastically.
Zoran Golubović reveals to us that among the customers who became so out of curiosity, there are also Swiss.
– It is nice to bring Serbia closer and bring it to Switzerland, and business with Serbia is a patriotic duty of each of our people in the diaspora who has the opportunity to do so. The tax paid to the state enables the construction of schools, hospitals, roads, etc. Simpo, a state-owned company that has placed its trust in us and entered into business with us, has an extremely good reputation among all people from the Balkans living in Switzerland. This brand is very well received by everyone. We came to an exclusive contract with Simpo by showing up at their door without any recommendation or political connection, so that anyone could think. The agreement on cooperation fell during our first meeting. Because we went to Vranje with a clear vision, concrete plan and business experience in Switzerland of 20 years. The result is visible. Today, Simpo is a competitor to Konfora, Lipa, Mebel Pfišter, Mebel Merkija – Golubović points out.
Our interlocutor came to Switzerland in 1990, at the age of fifteen. His parents were already there, who arrived in this country in 1975.
– I am originally from Smilovac near Paracin, and I live in Nis. I studied German and had previously taught French, German and English at my school in Zurich.
He considers one of the best decisions in his life to be independent almost two decades ago. Since then, he has founded a dozen companies.
"I haven't failed with any of them yet," he says with a laugh.
The first job – dictionaries
He made his first private job in 2002 when he was 27 years old.
– I started importing dictionaries for German, French and English to Switzerland. Success with this business motivated me to think "What's wrong?" At that time, there was no insurance service in the Serbian language in Switzerland as today. I studied the matter and formed an insurance brokerage company (health, legal, life, etc.). Shortly after that, for loans from various Swiss banks, in Serbian. It all went very well, because I managed to find quality workers and form a good team.
Then, in 2005, he wrote a project for Balkatel, a company in the field of fixed and mobile telephony, which in a short time became very famous among our people.
– It was a great success to compete with Snjišac
-s, Swiss State Telecom, Sunrise and Orange. As many as 40,000 of our families made phone calls in Switzerland via Balcatel and received bills in Serbian for landline, mobile and internet. The first foreign call center opened in Serbia, which used VoIP technology, was ours. We later developed other different businesses.
Our interlocutor says that he did not choose jobs.
– I worked in fixed and mobile telephony operators, as a call operator and technician. I also have experience in gastronomy, because I also finished catering school.
The Crown has thwarted plans globally. Zron Golubović, however, does not complain:
– My brother and I always had several different jobs at the same time. Precisely for that reason that if one does not go, the other goes. There is currently a kind of state of emergency in Switzerland. Almost all stores are closed (until the end of February), so we also had to close our Simpo furniture salon. Our other business with cars, insurance, internet, loans and IP television works regularly.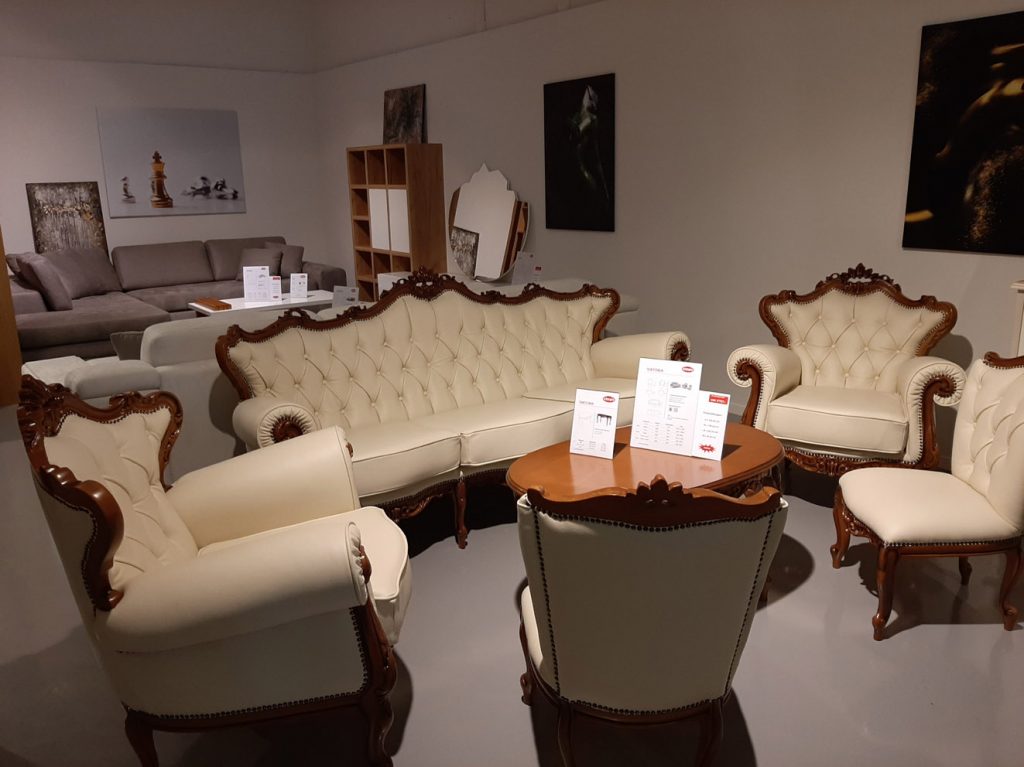 Simpo is a recognizable brand: Part of the exhibited furniture from Vranje
It's nice to be a Serb
Golubović notes that his children, as the third generation, are Swiss only on paper. They feel like Serbs.
– Son Nemanja finishes school in German, and daughters Nastasija and Natalija in French. Mutual communication is exclusively in Serbian – without interfering with any other foreign language. I am very proud of how much they love Serbia. The son plans to move permanently to Serbia after graduating from the Faculty of Political Sciences in Zurich. He was inspired by some interesting people of today: Arno Guyon, Charles Keter. He has our support for that. He says that the last time he cried was when he left Serbia for Switzerland. That says it all.
The interlocutor of "Vesti" notes that he never repented for coming to Switzerland:
– Only when you meet the Swiss, do you realize how nice it is to be a Serb… I could really tell you for a long time what is better in our country than in Switzerland. And I could do the opposite. I consider myself to live between two worlds – Serbian and Swiss. It is certainly a kind of privilege. And I, in addition, combine that with work. I do some jobs from Serbia in Switzerland, and others from Switzerland in Serbia. Until the appearance of the corona virus, I went to Serbia once a month.
Cleaner, clerk, director
Zoran likes that many of our people from the Balkans live in Switzerland.
– I also like the security that this country provides. Arranged system and cleanliness. Defined and clear rules of the game. I love that there are more different languages ​​spoken in Switzerland. That it is very easy to get in touch with people of different cultures. There are 198 countries in the world. And representatives of as many as 195 different nations live in Switzerland. And everything works. That's amazing. I especially like the Swiss accuracy, the low crime rate, as well as the Swiss education system, which is very practice-oriented. The professionalism of the Swiss is great in all spheres.
However, he is sorry that Switzerland is a very cold country in an emotional sense.
– 30 years ago, I heard a saying here from our compatriots: "Flowers without smell and people without a soul". That was a pretty accurate description. By the way, Switzerland is certainly a very beautiful country, but at the same time quite boring. Their big minus is their social life. There are no socializing and home visits like here in the Balkans. Our people do not live here with the Swiss, but next to the Swiss. Mutual contact is mostly reduced to business. "Mixes" are small. The Swiss are polite, but they don't enter the house just like that. In short, there is money in Switzerland, but there is no such life as in Serbia.
He points out that the second generation of our guest workers in Switzerland mostly do middle-class jobs.
– So, these are no longer as difficult jobs as they used to be with our parents. Most are very well integrated. There are us in all segments of life. And mostly all our Serbs speak the local Swiss languages ​​well. An acquaintance of mine showed me the UBS Bank building in the center of Zurich and said: "I used to clean this building. My son now works at the counter as a bank clerk, and my grandson will be the general manager of that bank. " I honestly believe it will really be that way. Because our third generation in Switzerland is very advanced. There are many smart and capable individuals among them. Our children are very talented. And they love Serbia more than Switzerland. Patriotism has been maintained among our people here.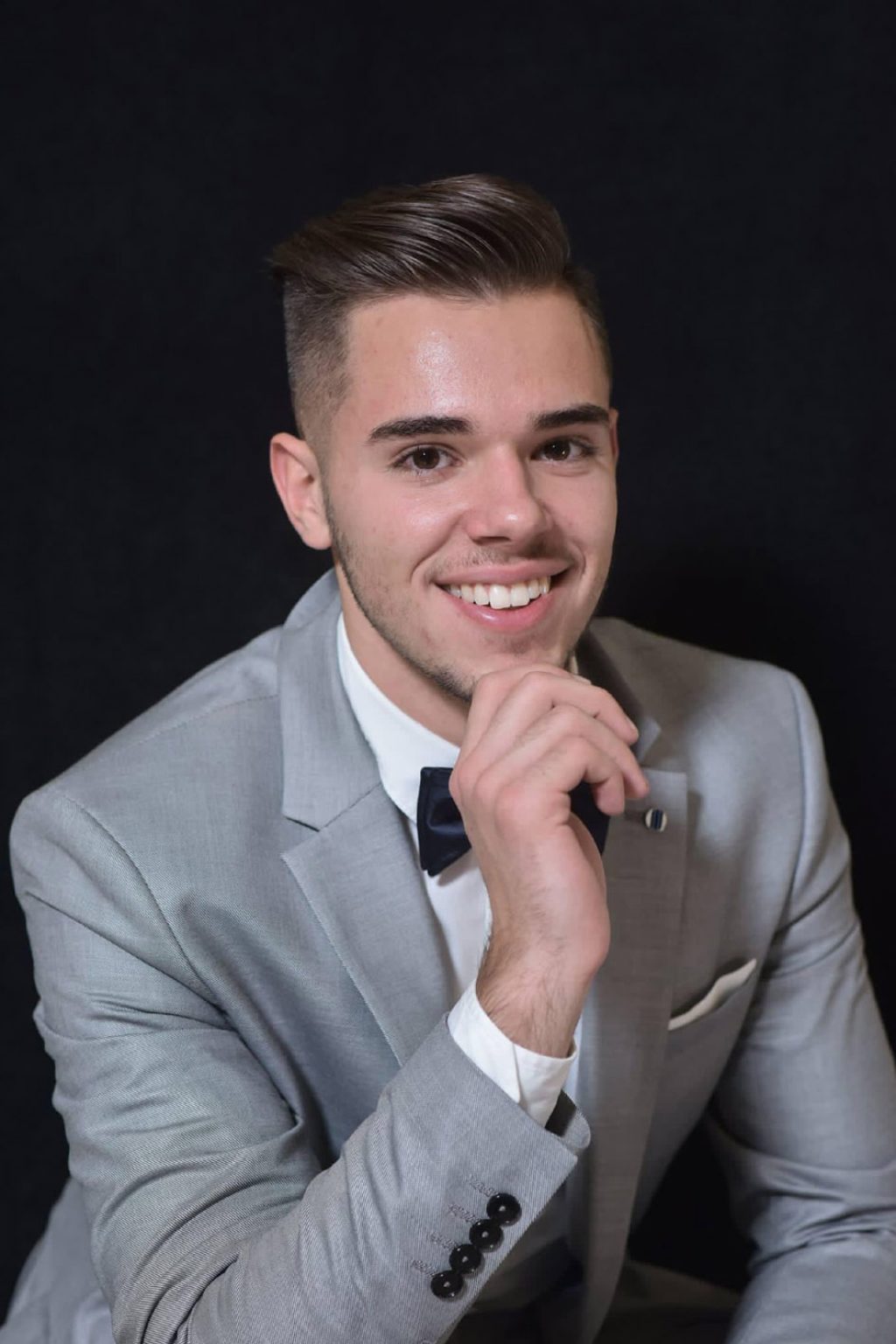 He plans to move to Serbia: Nemanja Golubović
Ambitious plans
– We do everything as a family. Our goal is to expand Simpo to the whole of Switzerland and to bring Metalac from Gornji Milanovac here. Also, to continue the project "Direct order of cars from Switzerland, according to the turnkey system" in Serbia. For the first time, someone enabled buyers from Serbia to buy cars in Switzerland, from an armchair. And by the way, that car in Serbia will be cleared through customs and paperwork until registration. While now, therefore, we are sending cars to Serbia, in the opposite direction we are sending furniture from Vranje to Zurich.
Love of music
Zoran sings from his hobby and says that music is his outlet.
– I love good folk music of the eighties. I also have company with which I play and sing. When I was younger, I also wrote lyrics and composed. I have about fifty of my works. Among them are songs sung by famous singers of our folk music.
Nastasia speaks six languages
– In our house, everything has been in the sign of Japan in the past year, because the older daughter Nastasia is intensively learning Japanese every day. Her wish is to one day go to Tokyo to study. By the way, that child is a genius for languages. At the age of 13, she already speaks six languages. And at the maternal level. We are left with an anecdote from her, when she was little, we asked her what will happen when she grows up. We expected an answer like "doctor", "teacher", "singer"… And she coldly answered us: "I want to be the president of Serbia"… She was only five years old then – recounts Zoran.
Children are never enough
He loves change and points out that he has already changed everything he wanted to change.
– My only regret is that I didn't have many more children. I have three of them, and I wish there were at least ten of them. It is the greatest wealth and each of our families should strive to have as many children as possible.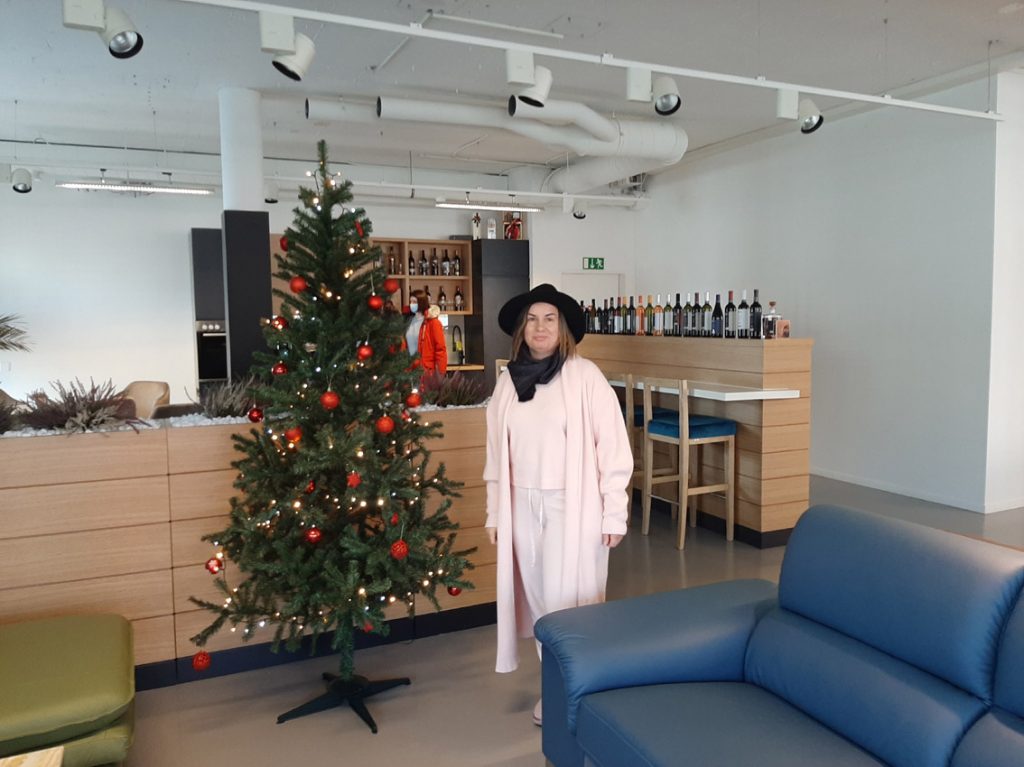 Laura Veljkovic
Laura brought her godmother
Laura Veljković, who is originally from Croatia, from Slavonski Brod, also came to the Simpo store. She works in Lenzburg, this time she brought her godmother to look at the furniture.
– As a buyer, I am very satisfied with the wide selection and I can say that I immediately, the first time I set foot here, bought furniture, even though the one I had in the house was not worn out and unusable at all. This time I came for my godmother to choose something – says Laura.