EVERYTHING KOVID MEASURES IN ONE PLACE: These are in force, and here are the ones we should respect for the holidays!
The Crisis Headquarters for the fight against the coronavirus was held in Serbia yesterday, and despite the fact that a new strain – omicron – has been registered in about ten people in our country, and unlike other countries that ban celebrations in squares, they are closing catering facilities and introducing holiday lockdown. we have not introduced new measures for the upcoming holidays. All the old ones remain in force, and in addition to the fact that kovid passes are mandatory in all catering facilities from 8 pm, it reminds of all other measures that are in force.
Photo:pink
We should adhere to them, especially now that their even stricter control has been announced.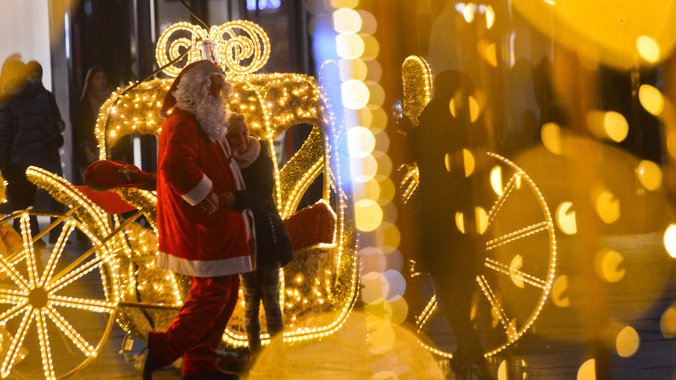 In Belgrade alone, as the head of the Belgrade Communal Militia, Ivan Divac, stated yesterday, there will be about 30 patrols of this service on the ground. Where there is a rigorous violation of the measures, they will empty the bar, and where there is a minor violation, they will sanction the individual.
100,000 people are expected to come to Belgrade, and a reception was organized in the center of the capital.
After yesterday's Crisis Staff, prof. Dr. Darija Kisić Tepavčević, said answering the question whether it is allowed to welcome in the squares that gathering in the open space is less risk than gathering indoors.
– Staying in the outdoor environment is a significantly lower risk than staying indoors, especially in the winter when it is less ventilated, but regardless of the fact that they are less risky, there is a risk.
– Everything that is organized will be properly controlled. The distance is difficult to control when it comes to a large number of people. The degree of risk must be assessed, but there is no police officer for each of us. Even if we attend a celebration, we should take care not to be a short distance – said Kisić Tepavčević.
These are measures that are in force all the time.
Personal protection measures
– Mandatory wearing of masks in public places indoors
– Keeping a distance of 2 meters
– Mandatory wearing of a mask outdoors if a distance of 2 meters cannot be maintained, such as bus stops, queues in front of pharmacies, shops, kovid clinics …
– Mandatory wearing of a mask in transport
Public gatherings
– All public gatherings indoors and outdoors for more than 500 people are prohibited. The distance between those present must be at least 2 meters, ie there can be one person for every 4
– For gatherings with more than 500 people, there must be a permit from the Crisis Staff to fight the coronavirus
– The permit must also exist for sports events, where the number of attendees in the open space must not exceed 50 percent of capacity and 30 percent indoors
– We are also able to attend parties and concerts, also, only 500 people, if they are not public cultural and artistic. He can do more only with the permission of the Crisis Staff
Behavior in catering facilities
– Users wear masks all the time except when eating and drinking
– Employees wear masks all the time
– The facility must not be more than 50 percent full
– There must be a distance of at least two meters between the tables.
There must be such a distance between people if they are standing in an open part of the building
– No more than 5 people can sit at the table
Working hours
– Catering facilities and those that organize games of chance work from 6 to 1 o'clock after midnight. The open part works without restrictions, with the proviso that after 1 and until 6 in the morning there must be no music
– Shopping malls are open from 6 to 22 hours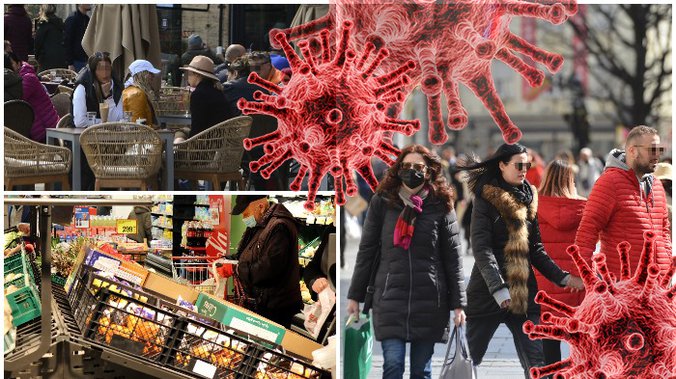 – The last screening in cinemas cannot start after 11 pm
– Pharmacies, pumps, food delivery, surgeries and dentists, retail outlets, retail stores operate without restrictions
Public transport
– Drivers must wear a mask and gloves while driving
– Passengers are obliged to wear masks
– Passengers can enter the vehicle only on one door – front or rear
– Parking spaces must be visibly marked
– We must not use air conditioning in vehicles
Entering the country
Given that omicron, first registered in South Africa in late November, has been diagnosed in more than 100 countries, as well as in Serbia, surveillance of passengers coming from 7 high-risk countries has been stepped up and all others coming from abroad are under control. given that transmission of this strain has been reported in most countries.
The countries at risk are – South Africa, Botswana, Zimbabwe, Namibia, Lesotho, Mozambique and Malawi.
Passengers who come from these countries or have stayed in them in the previous 14 days, regardless of the country from which they enter Serbia, are tested by PCR immediately after landing at the "Nikola Tesla" Airport, and stay in the space and isolation at the airport until results.
In case of a positive finding, the ambulance takes them to the Kovid Hospital "Batajnica" with all the protection measures.
If the finding is negative, a decision on house quarantine and transportation by taxi is issued with full protection measures to the registered place of residence in Serbia. Quarantine will be controlled by the Ministry of the Interior on a daily basis.
PCR testing on the seventh day or in any case from the onset of symptoms is also required.
A negative PCR test will not be a condition to get out of quarantine for 14 days, and the test is done at the expense of the person in quarantine. If the symptoms of the disease do not appear during the quarantine at home, after 14 days the quarantine obligation ends without the obligation to test.
As previously announced by the Institute of Public Health of Serbia "Dr Milan Jovanović Batut", in addition to the obligatory PCR test and quarantine, all foreign citizens must also register on the portal www.e-zdravlje.gov.rs.
– All foreign citizens who come from countries with special risk or have stayed in them during the previous 14 days from the day of the planned entry into Serbia are obliged to register their arrival 48 hours before arrival in Serbia using the website www.e-zdravlje.gov.rs , section "Foreigners Surveillance Registration" – stated on the website of the "Trampoline" Institute.
By the way, domestic and foreign citizens coming from countries with a special risk of spreading infectious diseases are allowed to enter Serbia if they have a negative RT-PCR test for the presence of SARS-CoV-2 virus, issued by the reference laboratory of the country they come from. enter Serbia, not older than 48 hours from the date of issuance of the results.
– If there is a delay when entering Serbia, which cannot be attributed to the guilt of the passenger but is a consequence of an external event that could not have been predicted, avoided or eliminated, then the test cannot be older than 72 hours when entering Serbia. ".
A traveler can enter Serbia even if he has a certificate of complete vaccination issued by the competent authorities of Serbia, ie the competent authorities of the state with which Serbia has concluded an agreement on recognition of vaccination, or a certificate of COVID-19, or that the person is SARS-CoV-2 virus, provided that no less than 14 days or more than six months may have elapsed since the first test, issued by the competent authority if it has concluded an agreement or de facto reciprocity with Serbia on the recognition of such documents.
Other rules for entering the country
– Foreigners who enter our country must have a negative PCR not older than 48 hours, a certificate of vaccination or a certificate of past disease kovid 19. If they do not have it, they cannot enter the country.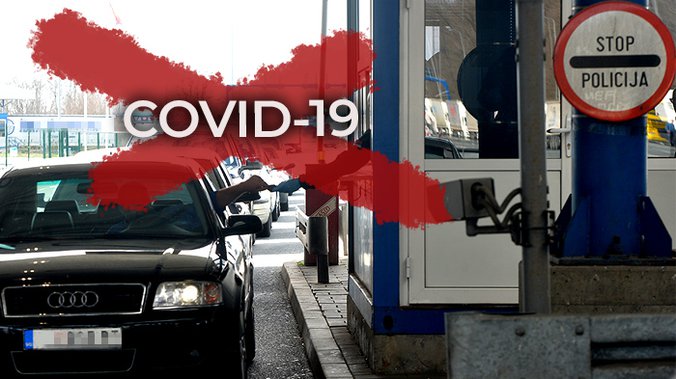 – Our citizens must also have a PCR, a certificate of vaccination or a certificate of past illness, and if they do not have it, they can enter the country, but they must be in home isolation for 10 days. This home isolation can be broken if the person receives a negative PCR test in the meantime.
Other recommendations
– Stay indoors as short as possible
– Install a barrier at the entrance to the enclosed space
– A dispenser must be available indoors, non-contact, with a hand sanitizer based on 70 percent alcohol and a prominent notice of the obligation to disinfect hands
– The mask should cover the nose, mouth and chin.
– It is necessary to regularly ventilate the closed space.
– Do not use artificial ventilation.
– Serve water and juices during the meeting in the original packaging. Avoid serving food.
– Cafeterias and similar spaces where water, juices or food are sold and served, which are located within closed spaces that are not catering facilities, do not work until further notice
– Before leaving the enclosed space, disinfect your hands, remove and dispose of the mask in the rubbish bin and disinfect your hands again.
Who can have a kovid pass
Kovid passes are mandatory for everyone who stays in catering facilities after 8 pm.
As a reminder, the digital green certificate should contain at least one of five items – proof of receiving the second or third dose of covid-19 vaccine confirming that the vaccination is not older than 210 days, or a negative PCR test not older than 72 hours, or a negative antigen test not older than 48 hours, or evidence of covid in the previous 7 months, confirmed by a positive PCR or antigen test, or a positive antibody test (IgG), not older than three months, performed in a state laboratory.
Source:
pink.rs
Read more