There are signs that Russia is preparing an escalation of the war in Ukraine in February, the secretary of Ukraine's Security Council, Oleksiy Danilov, said on January 4, a day after Ukrainian President Volodymyr Zelenskiy said that Russia was planning to call up more troops for a major new offensive.
Live briefing: Russia's invasion of Ukraine
RFE/RL's live briefing gives you all of the latest developments on Russia's ongoing invasion, Kyiv's counteroffensive, Western military aid, global reaction, and the plight of civilians. For all of RFE/RL's coverage of the war, click here.
"There are many signs that give us reason to say that they may have another attempt in February," Danilov said on Ukrainian national television.
Danilov said one of the signs is the increased activity of Dmitry Kozak, Russian President Vladimir Putin's deputy chief of staff, who has been holding meetings in Europe in order to force Ukraine to sign peace agreements.
Danilov said Ukraine "will not go for it."
Kyiv has been saying for weeks that Putin plans to order another mass mobilization and shut his borders to prevent men from escaping the draft.
"We have no doubt that the current masters of Russia will throw everything they have left and everyone they can round up to try to turn the tide of the war and at least delay their defeat," Zelenskiy said in his nightly video address on January 3 .
"We have to disrupt this Russian scenario…. Any attempt at their new offensive must fail," he said.
The comments came even as Moscow faced harsh internal criticism over a strike that killed scores of fresh conscripts.
Moscow has acknowledged that 89 soldiers were killed in the strike in the Donetsk region on December 31. Ukraine's military and pro-Kremlin military bloggers have said that around 400 soldiers died or were wounded in the artillery attack in the town of Makiyivka.
Hanna Malyar, deputy minister of defense of Ukraine, said significant Russian losses meant Moscow would likely have to announce a second partial mobilization in the first quarter of the year.
Russia's current efforts are focused on capturing Lyman, Soledar, Bakhmut, Avdiyivka, and Maryinka, Malyar said.
To increase the effectiveness of the use of troops, Russia "will continue to form additional assault units in the near future" and concentrate the main efforts on the capture of the communities, she wrote on Telegram.
According to the Defense Ministry's Main Directorate of Intelligence, the Kremlin's plans "remain unchanged — forcing the leadership of our country to negotiate by force," Malyar said.
Ukraine received a pledge for military equipment on January 4 from French President Emmanuel Macron, who said France would send light AMX-10 RC armored combat vehicles to help Kyiv in its war against Russia.
Describing the vehicles as "light tanks," an aid to Macron said the French president, who spoke by phone with Zelenskiy, wants to increase aid to Ukraine, but it was not immediately clear how many of the vehicles would be dispatched or when they would be delivered.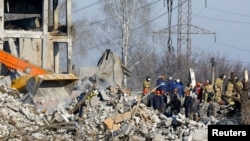 Photo Galleries:
Mourning, Finger-Pointing In Russia After Scores Killed In Makiyivka Rocket Strike

Images taken in the aftermath of a devastating Ukrainian HIMARS rocket artillery attack on a compound housing Russian troops show a building in ruins and a Russian city in mourning.
Earlier on January 4, explosions were reported in the vicinity of Russia's Belbek military airfield on Ukraine's occupied Crimean Peninsula, while Moscow renewed its air attacks on Ukrainian civilian infrastructure despite Kyiv's successes downing Russian drones.
The Russia-installed head of the port city of Sevastopol, Mikhail Razvozhayev, claimed on Telegram that two drones had been shot down by Russian forces. RFE/RL cannot confirm that report.
Belbek is home to the 38th fighter regiment of the Russian Air Force. It was targeted by a drone attack in August 2022. Since then, air defenses in Crimea have been activated regularly. The occupation head of the peninsula, Sergei Aksyonov, has said drone attacks are the "main threat" in the area.
The Ukrainian General Staff reported on January 4 that Russia has launched dozens of air and missile strikes, many of which targeted civilian infrastructure in Kramatorsk, Zaporizhzhya, and Kherson.
The Ukrainian military reported on January 3 that it had shot down 84 Russian drones on December 31-January 1.
"We have never achieved such results," Air Force spokesman Yuriy Ihnat said during a telephone briefing. "We have shot down nearly 500 drones since September."
Russia has carried out intense air strikes against Ukraine's energy system since October, causing widespread blackouts and shortages of heating and water.
With reporting by Reuters