We reacted nicely to the disaster! We want to the long run and dealing with the area within the single market
'THE STATE IS HERE WHEN IT IS NEEDED MOST!' Minister Mali for Pink: We reacted well to the crisis! We are looking to the future and working with the region in the single market
The Minister of Finance pointed out that many countries in the world did not react to the crisis as Serbia did. He adds that Serbia is creating a single economic zone with the countries of the region, with a goal that is in everyone's interest – GDP growth.
photo:pink
Minister of Finance Siniša Mali He stated that the regional initiative Open Balkans is a visionary initiative of President Aleksandar Vučić, and its goal is to connect Serbia, Albania and Northern Macedonia into an almost single economic zone.
– In this way, not only do we additionally connect the region and look to the future instead of the past, but we also have a specific goal – to contribute to GDP growth. According to the estimates of the World Bank, if we implement all these measures in the right way, we will have up to 7% of GDP growth in the region – the Minister says for "Novo jutro".
He expressed hope that Montenegro and Bosnia and Herzegovina would join the initiative, which would make the market bigger and more attractive and the whole region would move forward.
When it comes to the comprehensive crisis in Europe and the world, the Minister pointed out that many countries in the world did not react as Serbia did.
– We fulfilled every promise in a day, in dinars, providing everything we need in the fight against kovid. We are investing, raising salaries and pensions … We have started the construction of the subway. Despite the crisis, we have shown that we can face the economic crisis with a responsible policy – stated Minister Mali.
– The state is there for them (citizens) when it is most needed – the Minister said for "Novo jutro".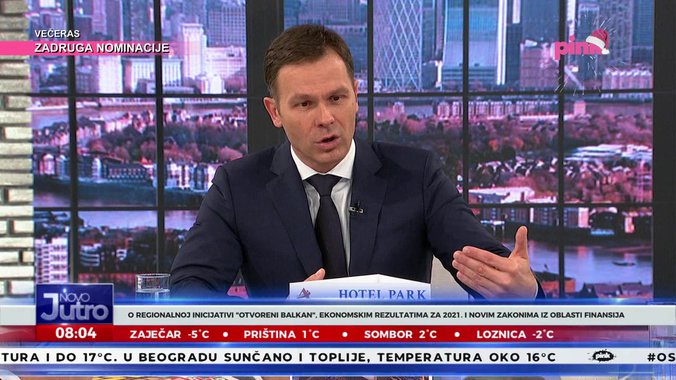 He reminded that pensioners will be paid 20,000 dinars of one-time assistance in February, and that an increase in pensions can be expected in January. An increase in public sector wages is also expected, as well as an increase in the minimum wage.
– The increase of the public sector and the minimum wage pushes up the average salary, because the private sector, whether it wanted to or not, follows the increases. In this regard, in December we will have an average salary of about 610 years, and they laughed when Vučić announced in 2019 that the average salary would be 500 euros – the Minister reminds.
He pointed out that the adopted set of laws should ensure the country's progress and stated that a new e-invoicing system would be implemented.
Source:
pink.rs