GREAT NEWS! Minister Mali announced on Pink: The minimum goes to over 35,000 dinars!
Finance Minister Sinisa Mali said the proposal would be to increase the minimum wage by 9.4 per cent. This means that from the current 32,022 dinars, the minimum in Serbia will be over 35,000 dinars. As he announced, the increase is being considered from January 1 next year. Mali said today that Serbia's deficit by the end of the year will be much smaller than projected.
Photo:pink
– Then they tell us – they do it because of the election. And what are the elections this year, which were in January when we increased salaries and pensions – he asked.
He also spoke about the assistance to pensioners of 20,000 dinars announced by the President of Serbia, Aleksandar Vučić.
– We are going to increase pensions. Pensions grew by 5.9 percent this year as well, despite the pandemic, and they also grew last year. That is our continuous policy. Public sector wages have also risen.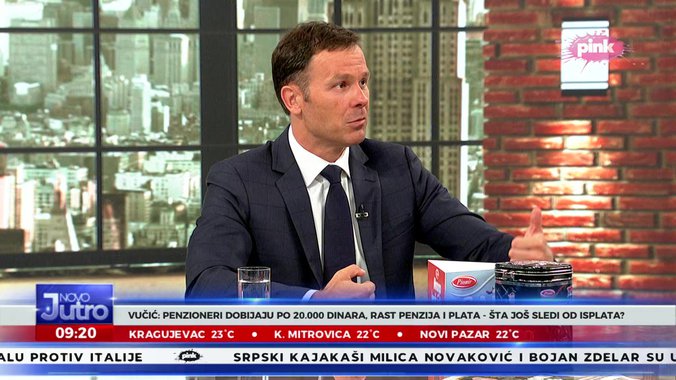 The Minister congratulated the citizens of Serbia on the results that the country has achieved in the first seven months of this year.
He pointed out that the coronary virus pandemic is still going on and that, despite that, we had a budget surplus in both June and July.
– A total of about 60 billion dinars – stated Mali and pointed out that we planned a minus of 198 billion dinars, and that at the end of July we have a minus of only 38.5 billion.
– Better result by 160 billion dinars – said the minister and explained that revenues are better, "the economy is working, money is spinning, there are more investors".
– Every industry is showing growth and we are very satisfied with that.
He also said that "it was never built in Serbia again", to invest in highways, hospitals so that our children would have a better future.
Source:
pink.rs
Read more