The worst situation was barely averted two days in the past in KiM, we have been one step away from catastrophe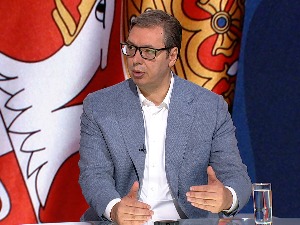 President Vučić pointed out that the worst scenario was barely avoided two days ago in Kosovo and Metohija, we were one step away from disaster.
"Despite all the incidents, which have increased by 50 percent since Kurti came to power, people lived somewhat normally. Prishtina refers to the agreement from 2011, which is very bad for us, and was signed by Borko Stefanović as Tadić's envoy to at that time, according to him, the two sides have the right to introduce reciprocity for entry and exit. However, we cannot let people with Kosovo identity cards without an accompanying document because that would recognize Kosovo's independence. But they interpret that agreement as if they have the right to "They should introduce the Serbs from Kosovo and Metohija, but they don't, because they do not represent the other side, not even from their point of view. They deliberately want to harass the Serbs from Kosovo and Metohija," President Vučić said in a guest appearance on RTS's Dnevnik.
He adds that, when it comes to license plates, they are not right at all.
"They canceled the UNMIK KS plates that we had the right to refer to, with the aim of canceling the KM plates so that the Serbs would never be able to say that there is anything from the state of Serbia on the Kosovo and Metohija," stated Vučić.
He announced that he will talk to NATO Secretary General Jens Stoltenberg in the early afternoon on Wednesday, and he talked and exchanged messages with numerous world leaders, including French President Emmanuel Macron, and he said he talked to Miroslav Lajcak at least 10 times.
Dejan Spahić was kidnapped by the so-called task force under the control of Kurti
Commenting on the news that in the north of the Republic of Kosovo members of Rosu stopped an ambulance which they took together with the driver Dejan Spahić in an unknown direction, Vučić said that it was not Rosu units that did it, but the special intelligence agency, the so-called task force, which is directly managed by Aljbin Kurti and the Pristina government, and the action was led by Javid Tahiri.
"They caught a Serb who was neither guilty nor guilty, who was transporting medicines. They will say that he is guilty because he was at a demonstration near the barricades, as if it was I don't know what. Well, all the Serbs are at the barricades because they are fighting, because they don't think that "Is Kosovo an independent state and then Kurti says in front of Quinta that he will fight against the mafia and crime, and they say 'of course'. All Serbs are mafia except those who say that Kosovo is independent," said Vučić.
He added that they had no right to be detained, both because of the regional police, and because they did not inform the mayors of four cities in the north of the Republic of Kosovo. He points out that NATO did not react even though it had to.
The West is not interested in unrest in Kosovo, the USA will always support Pristina in the end
Vučić mentioned that anyone who thinks that peace can be preserved with Aljbin Kurti is wrong, even though, as he says, no one in the West is interested in unrest in Kosovo and Metohija.
"I don't think that conflict suits the West, I don't think it suits the Americans, but they will always when it comes to stand-up, they will always support them, it's their child. You will support your child even if the guilt is equal to or greater than your child's. They they have been rocking this baby for 25 years," said President Vučić.
When asked to comment on the statement of Thomas Tyner, an expert on Cold War ground forces and the Alliance's defense strategy, that if Serbia dares to attack Kosovo and Metohija, the Alliance will react within a few hours, Vučić said that it was a fictional scenario.
"We have a correct relationship with KFOR, I met with General Mojsilović two or three times, nobody threatened Serbia, nor will they. And the scenario he invented is a scenario for small children… I believe that Serbia will be defeated in a few hours that no one thinks of it," said Vučić.
He says that as far as "putting the horns in the bag" is concerned, he has no problem with that, that he will always kneel and beg for peace.
"But when someone crosses the borders and threatens the lives of our people and when he thinks he can commit a pogrom because he thinks they are a sovereign state – you are not. Serbia cannot attack Kosovo and Metohija, because Kosovo and Metohija belong to Serbia according to international law and Resolution 1244," he says. Vucic.
Vucic says he will go to Brussels
The president says that he will go to a meeting in Brussels on August 18 with the representatives of Pristina, although he does not expect anything from that meeting because, as he says, he does not know anything that can be discussed with Kurti.
"I will go to Brussels, it's not difficult for me, I don't expect anything, whoever thinks that it is possible to keep the peace with Kurti, I think they are very wrong, I know who I am dealing with," said Vučić.
Regarding the statement of analyst Shkeljzen Malići that "he is not able to organize real barricades and activate paramilitary armed groups to put pressure on Kosovo and Metohija, so he organizes short-lived uprisings", Vučić said that he did not organize anything, but the people themselves.
"All night and half a day I struggled with the leadership of the Serbs to remove the barricades, I know that no one will believe it, but they did not want to remove them, the determination was greater than ever, all the forces were nowhere near enough to break through the barricades, they were ready to oppose. I did everything I could to preserve the peace," said Vučić.
He is proud, he says, of the unity we have with our people in Kosovo and Metohija. "I am asking what Serbia has done. We have done nothing and it is our fault again," the president pointed out.
"Neither Milosevic nor Tadić learned to lose, I didn't threaten anyone, I didn't say a bad word, but if you try to make something out of Serbia that you have already done in the past, then you will face a different answer," said Serbian President Aleksandar Vučić. .