The bus flew into the kids's playground in Zemun – a number of individuals have been injured, together with 4 youngsters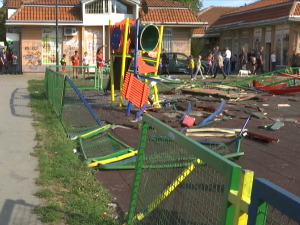 The bus on line 45 of the private carrier lost control and flew into the children's playground in Krajiška Street at number 71 in Zemun at around 1:35 p.m.
Several people were injured, including four children.
Three children were transported to the Children's Clinic in Tirsova, one person to the Zemun Hospital and one subsequently reported to the hospital, RTS has learned.
Two people who were on the bus were also injured.
As RTS unofficially finds out, none of the injured is life-threatening.
Although some media reported that the bus driver fled the scene of the accident, the Consortium of Private Carriers points out that he went to a nearby bus turntable so that the dispatchers could report what happened.
An RTS reporter reports from the scene that the investigation has been completed, and Tanjug reports that the driver has been arrested.