A fierce opponent of abortion, AND THIS DOESN'T MATTER HIM: An experimental drug received by Trump developed with cells obtained by ABORTION
One of the drugs that US President Donald Trump took as a potential cure for the corona virus was developed using human cells originally obtained through abortion. The American president and many of his supporters have repeatedly condemned abortion.
Photo: flash
The drug is a cocktail of monoclonal antibodies developed by "Regeneron" and is still in the testing phase. The president received an infusion of eight grams with the exception of "compassionate use" when he was hospitalized over the weekend.
Stem cells used for drug development are known as HEK-293T cells used in laboratories. These cells were originally developed from the kidneys of the embryo after an abortion performed in the Netherlands in the 1970s.
Since the beginning of his term, Trump has been trying to restrict women's access to abortion. The last such attempt happened last month when he nominated conservative Catholic judge Amy Connie Barrett for the Supreme Court. Supporters of the movement against the right to abortion are one of the bases of Trump's support.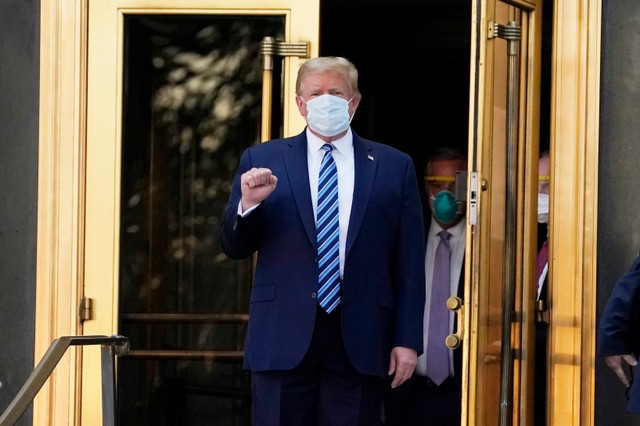 Photo: Evan Vucci / Tanjug / AP
The Republican Party Platform for 2020 explicitly opposes embryonic stem cell research and calls for a ban on federal funding for such tests.
In 2019, the Trump administration stopped funding government studies that include embryonic stem cells, leaving the scientists who worked on them without about 31 million dollars in research.
– We stopped federal funding for fetal tissue research, which everyone thought was so important. We oppose the abortion lobby – the president told supporters in January this year.
The HEK-293T cell line is "immortalized", which means that they are being developed in the laboratory today. "Regeneron" said that the company does not consider the cells "tissue".
– HEK-293T cell lines that are available today are not considered fetal tissue, and we did not normally use fetal tissue – said "Regeneron" spokeswoman Alexandra Bowie.
The development of the "Regeneron" antibody cocktail was supported by a $ 450 million grant from the Directorate for Advanced Biomedical Research and Development (Barda).
At least five candidates for the kovid-19 vaccine used either HEK-293T cells or cells developed by Jensen from an 1985 abortion. In April, an influential U.S. conference of Catholic bishops wrote to the U.S. government asking it to "encourage" vaccine candidates developed without the use of such cells.
"Regeneron" has been cooperating with the American government for years on the development of monoclonal antibody therapies. Researchers from this company and the American government used the same line of stem cells in the development of therapy against the Ebola virus, reports the "Guardian".
Regeneron's experimental drug against coronavirus is not available to the public and has been tested on only 275 people to date.
Source:
blic.rs