TENTS will be set up in front of all KOVID CLINICS in Belgrade
The President of the Assembly of the City of Belgrade, Nikola Nikodijević, and the Deputy Mayor, Goran Vesić, announced today that all Kovid-ambulances will receive tent waiting rooms, in order to make it easier for citizens to wait for examinations and testing during the coming cold days. In front of the Old Palace, the directors and representatives of the Belgrade health centers and clinical centers were presented with one of the twenty purchased tents, which will be set up in front of the Kovid ambulance.
Photo: flash
– From the first day, from the first infected person, the city of Belgrade has been actively involved in the system of fight against covids led by the president and the government. Protective equipment was procured for health centers, clinical-hospital centers and institutes with the desire to help health workers in this fight. In kovid-dispensaries, several thousand people are examined daily and we thought that there should be a decent space where to wait for an examination in case of suspicion of kovid. By the end of the week, we will provide additional equipment, in the first place for triage nurses, who work in the open space with patients – Nikodijevic pointed out.
Vesić specified that the tents were provided by the City of Belgrade in cooperation with the Ministry of Health and the City Headquarters for Emergency Situations.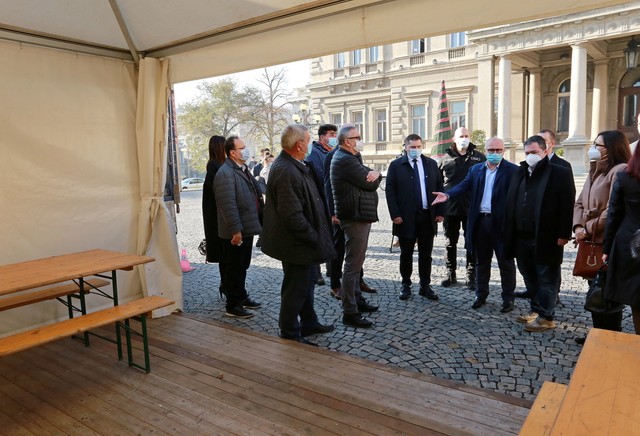 Photo: Beoinfo / City of Belgrade
Tents for kovid ambulance
– The goal was to provide the citizens with a space that will be heated and so that they can get away from the bad weather conditions, which are certainly waiting for us in the coming period. Cooperation with the Ministry of Health and the directors of health centers continues because we are all fighting together to protect the public health of the population and in order to get out of the epidemic as easily as possible – said Vesić.
From the tents-waiting rooms, patients go for examinations, then home or to triage clinics, so that in this way the reception is completed, which is of great importance especially for more serious patients. She once again appealed to the citizens to avoid contacts and wear protective masks until the epidemic gets downstream.
Source:
blic.rs
Read more